Joint Overseas Distribution Center / KOTRA
As a designated Joint Overseas Distribution Center by KOTRA (Korean Trade Investment Promotion Agency), G & B International, Inc. accomplishes its role as a North American base for KOTRA and together participates in fostering the growth of promising small businesses in Korea.
KOTRA makes it possible for the development of overseas business; small and medium-sized businesses in local markets have the opportunity to utilize KOTRA as a vehicle for exporting local goods at minimal cost and optimizing business prospects.
Distribution Center Structure: 3PL
KOTRA finds capable and reliable 3PL (third-party-logistics) providers for outsourcing needs. A 3PL provider can ultimately cut logistics transportation costs by finding the most efficient and reliable way of local transport for goods in foreign markets all over the world.
Who Benefits from using Joint Overseas Distribution Center
KOTRA finds quality businesses that have already met the qualifications and requirements for export business in target markets such as North America. KOTRA supports these small and mid-sized businesses that have difficulty in reaching those target markets in a number of ways:
Joint Overseas Distribution Center Lists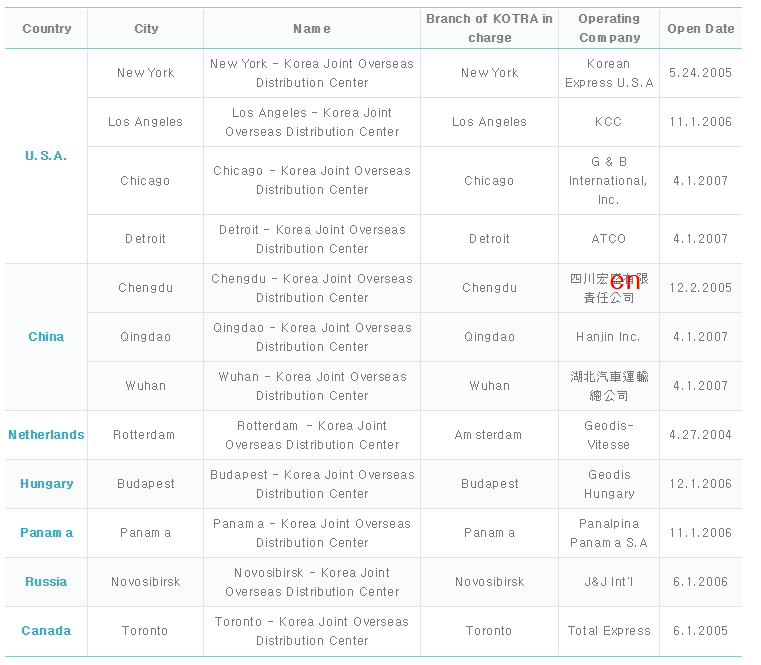 Joint Overseas Distribution Center Lists